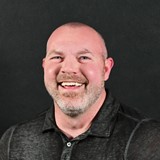 Director of Human Resources
Jeff Cottrell
Our well-qualified asset and friend, Jeff Cottrell, brings his vast academic and field experience to Challenger Pallet as of January of 2018. Serving as Director of Human Resources, Jeff's acquisition of a Bachelor of Science in Business Management and Master of Business Administration adds to his years of experience in our industry through OSHA Training Standards, Associate in Claims, Associate in Risk Management, and Six Sigma Green Belt certification from the International Association for Six Sigma Certification (IASSC). 
Before joining us at Challenger Pallet, Jeff worked at one of the world's largest hybrid seed manufacturers. In that role, he worked with a team of safety, risk management, and insurance professionals across the globe. He led the insurance litigation side of the business for the entire US production and research operations. Now overseeing the Safety and Process Improvement logistics for our organization, Jeff leads the company in recruiting, hiring, and employee retention. He works closely with operations and facility management to provide world class safety and process improvement.
Despite his ambitious pursuits in his professional career, Jeff spends recreational time in the summer with his wife and two sons in Island Park, Idaho, riding side-by-sides and enjoying the outdoors. In the fall, he serves as the head coach for youth football, as well as strength and conditioning coaching for high school aged athletes. When he can get out of town, he loves to pursue hobbies as an avid bowhunter, learning the nuances of snow machines, and anticipates a winter where search and rescue is not called to help him off the mountain.
His roots may lie in Iowa where he grew up, and since moving back to Idaho in 2016, Jeff and his family still remain die-hard Iowa Hawkeye fans through and through. You'll see the family's Hawkeye flag flying proudly every Saturday of the college football season above the Cottrell household.