The Largest Pallet Producer in the Intermountain West
Challenger Pallet & Supply Inc.
Challenger Pallet & Supply is a manufacturer of new, commercial wooden pallets and a distributor of repaired and remanufactured pallets. In 1969, our business began in southeast Idaho to provide shipping and packaging pallets for the local agricultural industry. A growing need in the potato and sugar markets drove our initial growth as we provided solutions for businesses to ship their products across the nation.
Today, Challenger Pallet has grown to become the largest pallet producer in the intermountain west. We currently operate a manufacturing facility in Idaho Falls, Idaho where our home office is located. In 1992, we expanded into the Salt Lake City, Utah market solidifying our presence on the Wasatch front and increasing our ability to service the local economy. Three Forks, Montana became the home to our third site in 2005 improving our response time in the Big Sky region.
Get in touch with us!
Need to make an order?
Reach out today for an estimate for repaired or remanufactured pallets.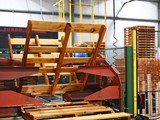 Decades of Experience
With over 50 years of manufacturing experience, Challenger Pallet & Supply is committed to being the top pallet producer in the Intermountain West! Whether you have a special pallet design or have run short of pallets for your shipping, packaging, and storage needs, our valuable experience, and can-do attitude can give your company that competitive edge to succeed in your market place.