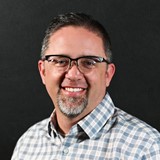 General Manager
Justin Hegsted
Justin Hegsted descends from the infancy of the family business, originally working on and off for Challenger Pallet since he was a teenager. He's familiarized himself in almost all facets of the organization, including running an automated pallet nailing machine, working saws and facility equipment, developing company-wide safety programs, and now serving as General Manager for the entirety of our 3 branches. After earning a Bachelor's in Business Management from BYU-Idaho in 2005, he aided the business as a 3rd generation asset to continue the family legacy.
Justin currently works with all department leaders to ensure customer and employee needs are met with the utmost consideration. His purchasing of select lumber additionally serves to provide Challenger Pallet with the highest quality of materials found in the Intermountain West.
Family time with his 5 children—2 boys and 3 girls—and wife of 20 years, keeps Justin and his family busy and content with their many activities in sports, cheerleading, and ballroom. Their 3 dogs, Chewie, Harley, and Moose, all contribute to the wild family dynamic Justin cherishes with equal love and attention. Whenever possible, Justin and his wife travel to attend concerts, new attractions, and sports events for some extra flair to their lives.