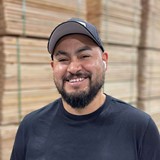 ID Cut Plant Manager
Nicolas Cortez
Since 2003, Nicolas Cortez has worked through many of the roles at Challenger Pallet. First starting out as a Pallet Stacker, Cortez quickly moved on to become an operator on the Resaw, Gangsaw, Pack Saw, Chop Saws, and even a Forklift Operator. He was then transferred to the TAP building to help with fabrication and welding. Once completed, he was offered a position as the Day Shift Crew Leader.
Now serving as a TAP Plant Manager as of July of 2020, we couldn't be more impressed with the skills and work ethic he continues to bring to the team. Cortez's background in welding and fabrication helped hone his abilities with a torch. This hobby eventually turned into an enjoyable skill set he'd utilize throughout his career.
Cortez enjoys spending time with his loving family and friends. He plays soccer and travels whenever possible, equally enjoying watching his four daughters play soccer as well. When it's time to relax, he'll watch movies with the family and relax at home for some well-earned downtime.